Our Inclusive Family-Building Program Includes
Online Curriculum


Offers helpful resources explaining non-traditional family building options, process and costs.
One-on-One Coaching


Personal coaching by caring experts helps to guide employees on the path that is best for them.
High-Value, Low Cost


This meaningful benefit provides employees with clarity and understanding, while reducing stress and saving time and money.
Program Features
Your online portal provides access to an in-depth, on-demand video library. When your employee registers, they are able to view the videos, utilize the resources and connect with a Coach.
On-Demand Videos
Topics include Adoption, Foster Care, and Assisted Reproduction Technology topics such as Surrogacy, IVF, Egg Donor — choosing a path and a provider, how to pay for your journey, with information on grants, loans and fundraising.
One-on-One Coaching
Unlimited access to our professional coaches. Our experience working with over 6,000 families across the United States makes us uniquely qualified to provide resources and coaching to your employees.
Live Webinars
Designed to explain the employer benefit and commitment, as well as how to utilize the resources and Coach.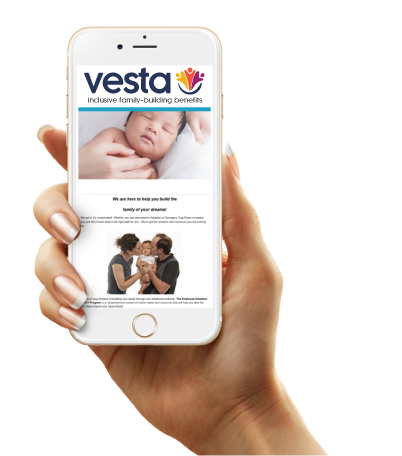 Experience & Results
Meet the Leaders
The Vesta leadership team is comprised of highly qualified, purpose-driven professionals who are dedicated to the success of your employees. Each has personal experience with alternative family-building methods, affording them a unique insight into the needs of parents embarking on such a journey.
Kelly Ellison
Founder & COO
Adoptive Parent
Denise Steele
Program Director
ART & Adoptive Parent
Adam Winder
President
Orphanage Founder
Parent
Edward Brockschmidt
CFO
Parent
Roland Salloum
General Counsel
Parent through IVF
Contact Us
(800) 213-8413